School Programs
A language-rich environment that focuses on your child's communication skills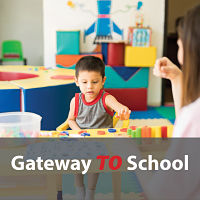 Gateway School, a nursery, primary, and middle school for students with autism and other related communication disorders
The program emphasizes remediation of speech, language and hearing deficits that interfere with the acquisition and retention of academic and social communication skills and development of appropriate social behavior. Instruction in social skills and life skills is an important part of each student's educational program and is integrated throughout the school day. Instruction in the areas of science and social studies is hands-on, multi-sensory and emphasizes the development of language concepts that serve as the foundation for these subject areas. All students participate in weekly enrichment classes in art, library, music, and recreation.
Gateway TO School, an early intervention program for children with autism
This program is designed to help children develop language, social, and play skills. Learners are supported in improving their communication, academic, social, and play skills and prepared to be successful in multiple learning environments. Children and families will gain a toolbox of strategies to help the learner succeed.
HASA PreK, a unique program for 4 and 5-Year-Olds
This program is limited and enrollment is on a first come, first served basis. This is a language-rich program, with math and science incorporated into the school day as well as time for free and structured play. Extended day options are available. Income and age guidelines apply. Please email hasa@hasa.org for more information.
---
CONNECT WITH GATEWAY SCHOOL